The landscape changes rapidly as you head west. Badlands turn into prairie, and prairie turns into forest. On this morning, I entered Black Hills National Forest, expecting to make only a quick pit stop at Mount Rushmore, before continuing down to Wind Cave National Park. I ditched that plan, and decided to run to the highest point in the state of South Dakota--Harney Peak.
I began with Mount Rushmore. To be frank, I wasn't particularly interested in visiting this monument. Sure, it'd be impressive to see, but this trip is about running in our parks, not trying to avoid getting knocked over by tourists. Sure enough, when I arrived at 10:30 a.m., expecting to have beaten the majority of the Labor Day crowd, the throngs were already milling about.
I took the obligatory photos while jog-walking the Presidential Trail to get a closer look. I made it back to the amphitheater for a brief ranger talk on President Roosevelt.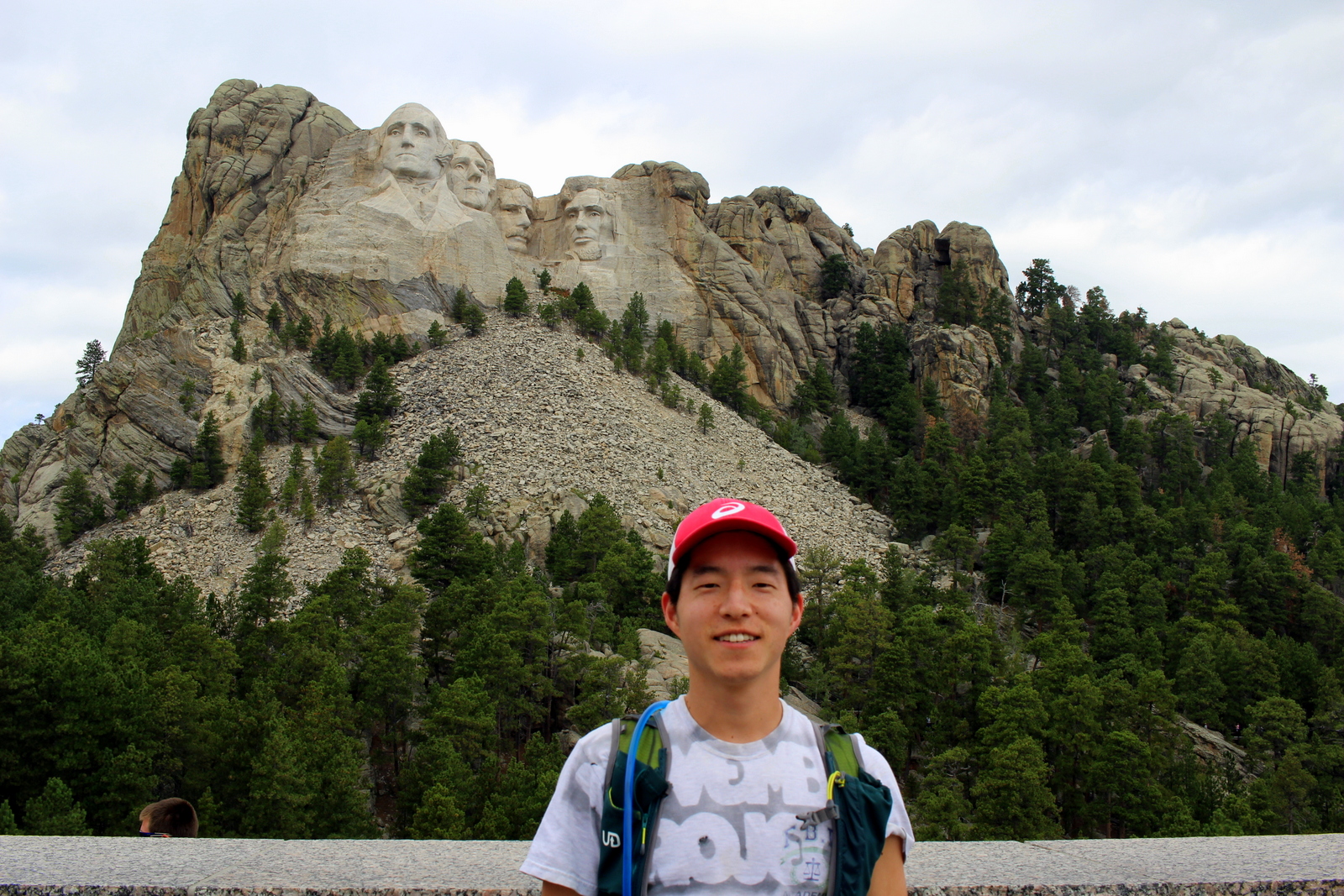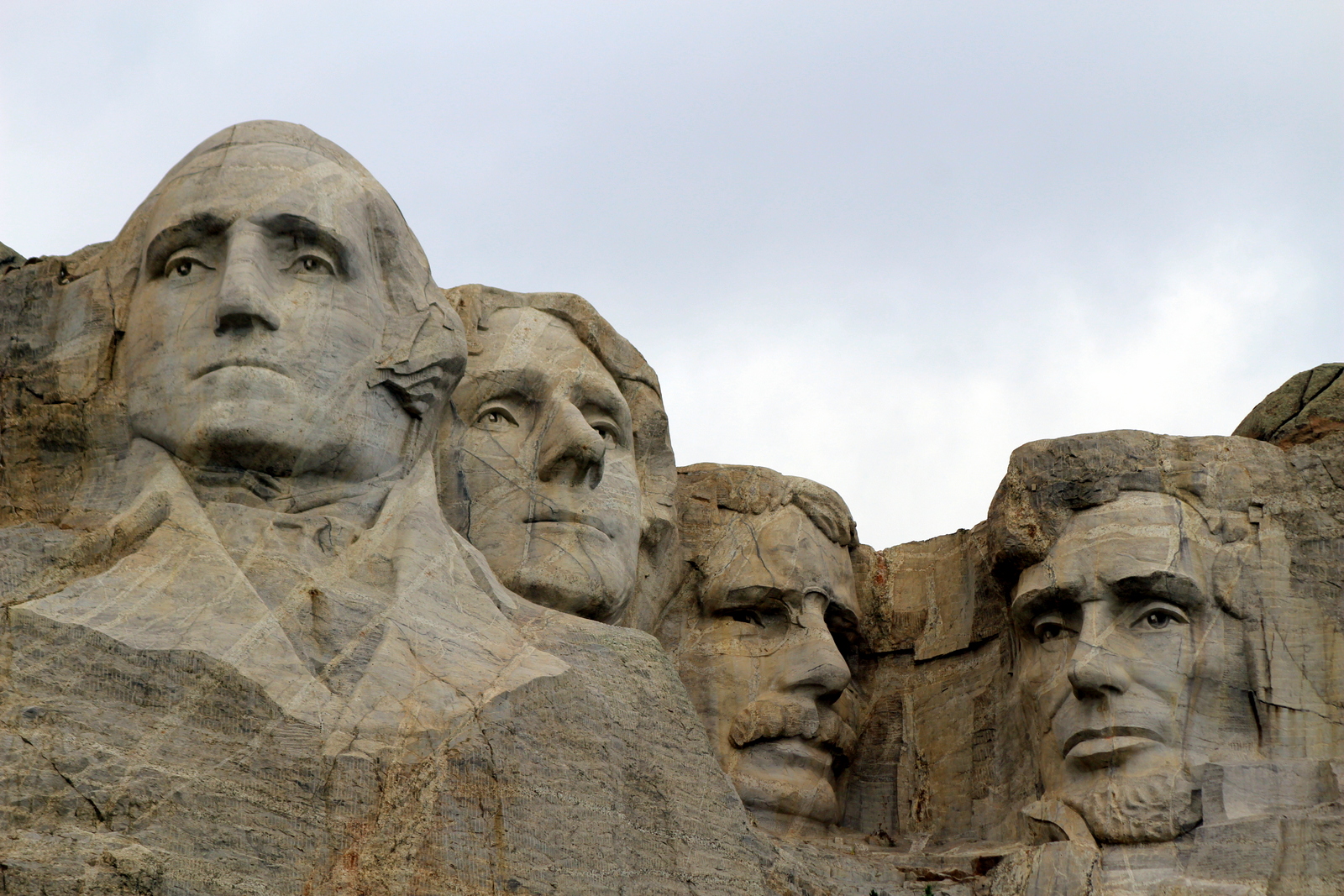 By this point, it was already almost noon. My original plan was to head to Wind Cave. But a ranger had mentioned that Harney Peak was just a few miles down the road. I decided I'd run it.
There are two approaches to Harney Peak. One is 3.5 miles one way with 1,100 feet of elevation gain on a relatively easy trail. The other is closer to 6 miles, with 2,200 feet gained on a rugged trail. Obviously, I chose the latter (I subscribe to the doctrine of "The Strenuous Life").
I've always loved climbing. Whether on bike or foot, it feels amazing to reach a summit or crest a hill. Climbing is hard work, and can put you in a world of hurt. But it--both the journey and the summit--is always worth it.
I began, as always, by carefully reviewing the posted information, and orienting myself on the trail map. I have a pretty good habit of getting lost, but my compass has always helped me get back where I need to be.
And then I was off. Pretty soon, I thought I could see where I was headed.
I got into a steady rhythm, power-hiking up the inclines, and running the flats and the dips. I was getting closer.
The trees started thinning out as well.
But when I followed the trail that rounded what I thought was the summit, I noticed that there was a whole expanse that I hadn't seen from the bottom. I paused to catch my breath and stare out into the Black Hills.
I followed the ridge line, and then realized that I could now see the summit--there clearly was an observation tower at the top.
Right at this point, a couple was descending back down the trail. When I passed them, the man said, "You're almost there--it's about 30 minutes from here." I chuckled to myself. 30 minutes? More like 10! (It turns out it took me 12 more minutes to get to the top.) There were a lot of people up at the top. It was a picture-perfect day, with cool temps of 60 on the summit and 70 further below, so I wasn't surprised.
I took my obligatory summit photo, which also conveniently served as a way for the winds to dry off the sweat on my shirt.
I looked down from the top and decided it was time to start descending. I hadn't realized it, but I'd just spent an hour at the summit, and the day was about to disappear if I stayed longer than that. So I began descending--and quickly!
This was an unplanned detour. But it was so worth it. Life is generally better with a plan. But sometimes you have to learn when to stray from the plan and act spontaneously.
By now, I was past even the time I'd thought I'd be arriving at Wind Cave. It was a short drive away, but I opted to take the Needles Highway, known for its granite towers and pillars. I drove very slowly, not only to see the scenery, but also because the road was windy.
There were also several single-lane tunnels through the granite. The highlight was the Needle's Eye, a narrow one-lane slit that cars somehow passed through.
I made it through unscathed. I stopped at a turnout to take a photo of the dramatic landscape. But I also decided to pay photographic tribute to a silent partner in this entire endeavor: my car.
I finally made it out of the Needles Highway and back onto the road through Custer State Park. Because it was past 7 p.m. now, I began seeing more wildlife coming out to eat. There were lots of bison, both on the roadside, but also out in the prairies.
I also saw a pack of pronghorn nomming on the grass close to the highway.
As the sun set over the hills while I arrived at my campground in the ponderosa pine forest, I felt thankful for another amazing day out in our parks.